Welcome, United States Customer!
Choose your location and preferred currency for a localized shopping experience.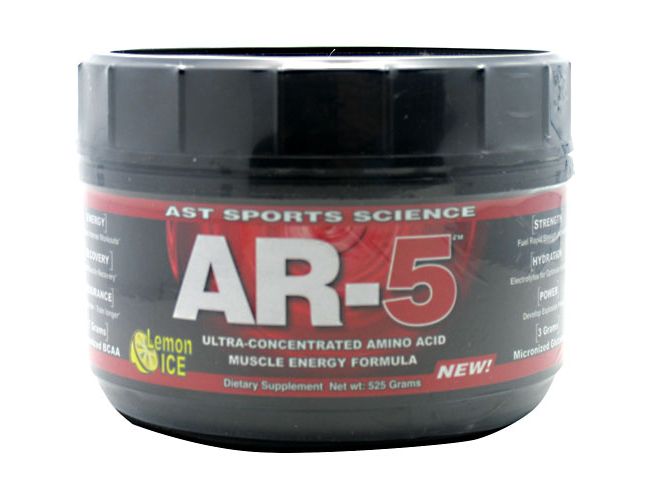 Details
AST Sports Science AR-5 35 Servings - 525 grams
AST Sports Science AR-5 is an ultra concentrated amino acid supplement that promotes enhanced energy levels as well as delivering essential nutrients for proper recovery and muscle repair. AR-5 is a new great tasting, powerful, ultra-concentrated amino acid formula designed to fuel and energize working muscles, enhance muscle power and endurance, maximize muscle and whole body hydration, promote rapid muscle recovery, and ignite greater protein synthesis. AR-5 is a dynamic, bioactive formula that quickly floods your muscles with key performance nutrients to promote energy, lean muscle-growth, strength, endurance and recuperation.
Highlights:
Ultra-concentrated amino acid muscle energy formula.
7 grams micronized BCAA.
3 grams micronized glutamine
Benefits:
Ultra-concentrated amino acid muscle energy formula.
Energy for ultra-intense workouts.
Recovery raid muscle recovery.
Endurance train harder-train longer.
Strength fuel rapid strength increases.
Hydration electrolytes for optimum hydration.
Power develop explosive power.
Directions:
Mix one (1) scoop in 12 to 20 ounces of cold water. Drink a serving before' during and immediately after your workout.
Ingredients:
Nutrition Facts
Serving Size: 1 Scoop
Servings Per Container: 35
Amount Per Serving
% Daily Value
Anti-catabolic Aa Matrix 1'210 mg
Calcium (as Di-calcium Phosphate) 55 mg 5 %
Calories 50
Calories From Fat 0
Cholesterol 0 g 0 %
Dietary Fiber 0 g 0 %
Hydrolyte 1'150 mg
Magnesium (as Magnesium Phosphate) 68 mg 17 %
Micronized Bcaa 2:1:1 7'000 mg
Micronized Glutamine 3'000 mg
Phosphorus (as Magnesium Phosphate' Di-sodium Phosphate' Di-calcium Phosphate And Potassium Phosphate) 240 mg 24 %
Potassium (as Potassium Phosphate) 85 mg 2 %
Protein 0 g 0 %
Saturated Fat 0 g 0 %
Sodium (as Di-sodium Phosphate) 80 mg 3 %
Sugars 0 g
Total Carbohydrate 2 g -2 %
Total Fat 0 g 0 %
Vitamin C (as Ascorbic Acid) 120 mg 200 %
*percent Daily Values are based on a 2'000 calorie diet.
Ingredients: Crystalline fructose' citric acid' natural flavors' lecithin' tartaric acid' blue grape color and sucralose.
*These statements have not been evaluated by the Food and Drug Administration. This product is not intended to diagnose' treat' cure or prevent any disease.
Questions on
No questions asked yet
Note: Note: In the event of a pricing error or fraud alert, we may refuse or cancel any orders placed for that item in accordance with our Terms & Conditions. We will notify you of any cancellation. Also, because manufacturers continually change product specifications without notice. While we try our best to keep product descriptions up to date, they do not necessarily reflect the latest information available from the manufacturer. We are not responsible for incorrect or outdated product descriptions and/or images. It is your responsibility to know what products are legal or illegal in your country.