On the Dr. Oz Show, Dr. Oz discusses a supplement that will help with reducing the appearance of cellulite having you look healthier and younger. What is this effective treatmen to turn back time on the clock? Retinol Cream!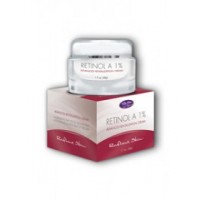 What is Retinol Cream?
Retinol is the whole vitamin A molecule, which is one of the best vitamins for your skin. Vitamin A is a potent antioxidant, and works to protect your skin from free radicals, generates cell growth, and repairs damaged cells. Retinol A 1% cream delivers a high concentration of retinol to moisturize the skin and to diminish the appearance of fine lines wrinkles and skin irregularities.
What is Retinol Used For?
Retinol has been shown to be effective to reduce wrinkles in the face as well as reduce the appearance of fat or cellulite in the legs. Retinol helps to rebuild your skin and make it thicker and make your collagen cables thicker.
How Much Retinol Do I use for it to be Effective?
Dr. Oz recommends a cream with .4 Retinol solution and apply it 1-3 times a day.
Where Can I Find Retinol Cream?
We have Retinol Cream for only $13.99 here!