Welcome, United States Customer!
Choose your location and preferred currency for a localized shopping experience.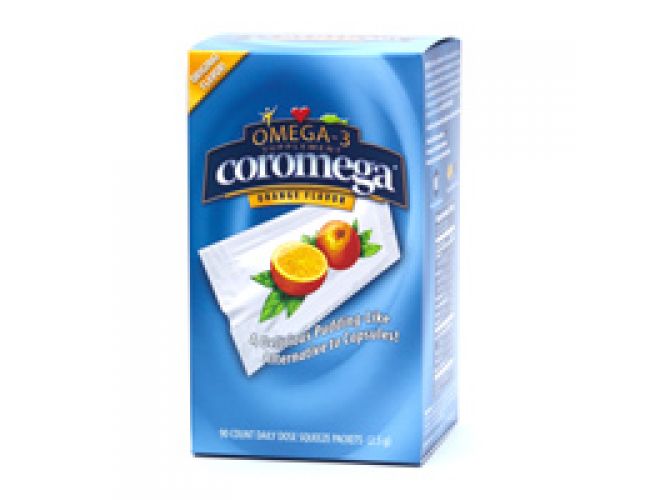 Details
Ingredients and Supplement Facts We really didn't cross a deep-water fish and a Valencia orange to develop our delicious, healthful Coromega® Omega-3 fatty acids supplement. But when you taste our exciting, new Omega-3 delivery system, we're sure you'll be amazed by the appetizing fresh orange taste. Coromega's exclusive production process transforms the pharmaceutical grade fish oil into a creamy, delicious pudding-like emulsion. We've made the experience of taking a fish oil supplement a pure pleasure by absolutely eliminating any fishy aftertaste. And, by adding a delicious orange flavor. The Coromega process and formulation, developed in Norway, was over 10 years in the making and is patented worldwide. This complex process assures the stability of the fish oil and the potency of the ingredients. Coromega is a natural source of Omega-3 fatty acids from pharmaceutical grade fish oil. All impurities have been removed through a series of sophisticated processes, including molecular distillation, to provide a pure and concentrated source of Omega-3. Coromega is a proprietary emulsified form of Omega-3 fatty acids, EPA and DHA, protected and stabilized with vitamins C and E. Natural orange flavor. Naturally colored. DHA & EPA The Omega-3 and Omega-6 fatty acids make up two families of fats that are absolutely essential to human life. These essential fatty acids are important because they form important components of our cell membranes. They also regulate the body's use of cholesterol and the production of substances that regulate nearly all other bodily processes.* Most of the processed foods and vegetable oils we consume today have high amounts of Omega-6. But these oils have very little Omega-3. Today nutritional science is validating more and more healthful benefits that Omega-3 fatty acids can have on the human mind and body. Omega-3 fatty acids in their long-chain forms, EPA (eicosapentaenoic acid) and DHA (docosahexaenoic acid) are both found almost exclusively in deep, cold water fish. EPA is needed to create health-promoting prostaglandins that support cardiovascular health and cell membranes throughout the body. DHA is vital for a healthy brain, eyes and reproductive system. * The body works best when the two types of fatty acids are combined in the right proportions. Because there is evidence that people in industrialized nations have a disproportionately high intake of Omega-6 fatty acids, it is suggested that we reduce our intake of Omega-6 and increase our intake of Omega-3. Daily supplementation with Coromega and reduced intake of Omega-6 fatty acids is a great way to seek a balance of these essential nutrients. Historical Perspective The Discovery of Omega-3 Essential Fatty Acids (EFAs) Because EFA are essential for life and health, it is almost certain that the essential fatty acids (EFA) such as Omega-3, were here before mankind appeared on the planet. However, the discovery of essential fatty acids was delayed until the twentieth century, because there was no simple way to measure them. Extensive study of EFA did not occur until thin-layer chromatography was first applied to lipids at the University of Minnesota in the 1970s.* A New Interest In addition to the early pioneering research on essential fatty acids, increased interest in Omega-3 was generated by a study of the reasons why the Inuit people of Greenland were able to maintain healthy hearts and cardiovascular systems despite a diet that was rich in fat. The study revealed that although the Inuits' diet was rich in fat from fish and sea mammals, it was also rich in marine Omega-3 fatty acids. Worldwide interest in Omega-3 grew with important research conducted by Sune K. Bergstrom, Bengti Samuelsson and Sir John R. Vane which earned them the 1982 Nobel Prize for their discoveries concerning prostaglandins and related biologically active substances. From this point the interest in Omega-3 has continued to grow with numerous studies on wide-ranging areas of health.* Omega-3: The Lost Nutrient. Today researchers estimate that around 80% of the sources of Omega-3 have disappeared from the food sources that make up our western diet. This means that unlike our Paleolithic ancestors whose diet was comprised of both the essential Omega-3 and Omega-6 fatty acids, in the right amounts, Omega-3 has rapidly become "the lost nutrient" in our diet. What was once a healthy balance of Omega-6 to Omega-3 in the human diet has become woefully out of balance. Although Omega-3 fatty acids are found in fresh cold-water fish such as mackerel, salmon and sardines, much of our foods have become laden with unhealthful "trans fats" by hydrogenation. To add to the problem, during the last ten to fifteen years, America decided to go "fat free"-- in spite of the fact that thousands of studies suggest the importance of essential fatty acids in the diet. Coromega has been developed to support our Western diet, which is increasingly becoming stripped of essential Omega-3 fatty acids. It is a great way for our minds and bodies to get back the lost nutrient. Coromega Delivers The Omega-3. Coromega is an advanced Omega-3 essential fatty acids formula that delivers 650 mg of Omega-3, (similar to one small serving of salmon) including 350 mg of EPA and 230 mg of DHA, as well as Vitamins C & E and Folic Acid in each daily dose squeeze-pak. In addition to being a pleasure to take, Coromega's delivery system ensures nutrient absorption. Bioavailability Studies of Emulsified Flavored Fish Oil. Douglas M. Bibus, Karl Schumacher, and Ralph T. Holman. The University of Minnesota, The Hormel Institute, 801 16th Ave. NE, Austin, MN 55912, USA. As science continues to unravel the nutritional and therapeutic benefits of supplemental Omega-3, demand for fish oil supplements and related Omega-3 products will grow. Enhanced demand will create a need to provide fish oil in more desirable and more effective delivery systems that are more amenable to consumer needs, taste, and convenience. Emulsified flavored fish oil products have emerged as a way of providing fish oil in a form that not only tastes good but also in a form that is already emulsified. Recent work from our laboratory has examined the bioavailability of an emulsified flavored fish oil product (Coromega®) vs. traditional encapsulated fish oil in a short-term feeding trial in men. Subjects were randomly assigned to receive either of the products following an overnight fast. Plasma samples were prepared from venous blood draws at baseline, 2, 4, 8, 24, and 48 h following the ingestion of the equivalent of 4g of fish oil from either product. One week after the initiation of the study, the study protocol was repeated with the opposite oil. Subjects fasted during the first 8h of study and were advised to consume low-fat meals for the rest of the study. Fatty acid profiles were then determined for plasma total phospholipids for each time point with baseline values serving as control. Percentage differences in specific fatty acids in individuals were then compared to baseline and the alternative treatment to assess bioavailability. Findings on this study suggest that emulsified fish oil is more bioavailable. Levels of eicosapentaenoic acids (EPA) and docosahexaenoic acids (DHA) not only increased faster in subjects consuming emulsified fish oil but increased to a greater extent during the 2-d study period. Flavored fish oil emulsions will revolutionize the way people consume fish oil and may be an effective tool to guarantee greater study compliance in study subjects adverse to fish oil capsules.
Questions on
No questions asked yet
Note: Note: In the event of a pricing error or fraud alert, we may refuse or cancel any orders placed for that item in accordance with our Terms & Conditions. We will notify you of any cancellation. Also, because manufacturers continually change product specifications without notice. While we try our best to keep product descriptions up to date, they do not necessarily reflect the latest information available from the manufacturer. We are not responsible for incorrect or outdated product descriptions and/or images. It is your responsibility to know what products are legal or illegal in your country. FDA: These statements have not been evaluated by the Food and Drug Administration. This product is not intended to diagnose, treat, cure, or prevent any disease.