Welcome, United States Customer!
Choose your location and preferred currency for a localized shopping experience.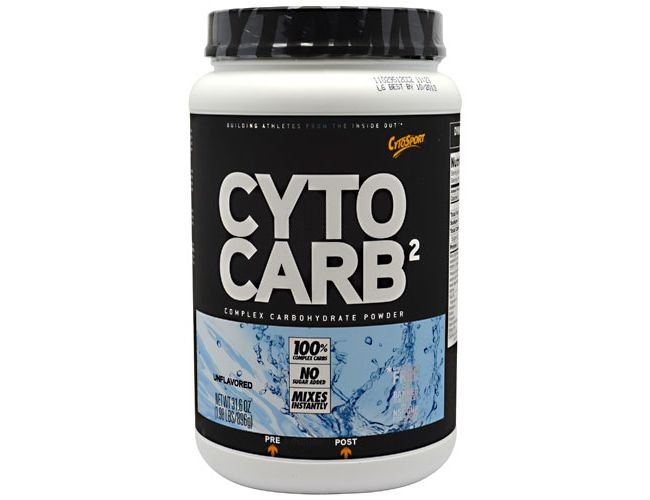 Details
CytoCarb 2 1.98 Lbs | CytoSport
CytoSport CytoCarb 2 is a great complex carb supplement perfect for those looking for a better recovery carb powder. The formula includes 52 grams of carbs in each serving., CytoCarb delivers outstanding results for increased energy and accelerated recovery time. Bodybuilders looking to for a weight or lean mass gainer will especially find this product beneficial. If you need an advanced performance carb product then look no further than CytoCarb 2.
CytoCarb 2 mixes instantly when taken alone or added to your protein shakes.
Highlights:
Pure carbohydrate powder
100% natural complex carbohydrates.
Zero fat,
Ultra low sodium,
No colorings or additives.
CytoCarb 2 Benefits:
Cytocarb 2 helps improve performance and endurance
Accelerates Recovery and Muscle Repair
Helps facilitate the uptake of amino acids into hungry muscle, leading to muscle growth
Aids in shuttling essential Amino Acids to the muscles
Increases Nitrogen Balance
CytoCarb 2 Product Reviews
MSS has a Reviews Tab for each product on the website. Rate and review CytoCarb 2 after you make your purchase.
CytoCarb 2 Stacks
You can stack CytoCarb 2 with a variety of other products. Muscle Milk and Monster Protein make ideal stacking partners, and they assimilate quickly when mixed.
Directions:
Take 4 scoops per day.
Ingredients:
Nutrition Facts
Serving Size 4 Scoops
Servings Per Container 16
Amount Per Serving
% Daily Value
Calories 210
Total Fat 0 g 0%
Sodium 45 mg 2%
Total Carbohydrate 53 g 18%
Sugars 2 g
Protein 0 g
*percent Daily Values are based on a 2,000 calorie diet.
Ingredients: CytoCarb II (CytoSport's unique combination of branching as well as short, medium and long linear chain maltodextrins, with very low "DE" (Dextrose Equivalence) providing a complex carbohydrate source approximately 96.5% Sugar-free).
*These statements have not been evaluated by the Food and Drug Administration. This product is not intended to diagnose, treat, cure or prevent any disease.
Questions on
No questions asked yet
Note: Note: In the event of a pricing error or fraud alert, we may refuse or cancel any orders placed for that item in accordance with our Terms & Conditions. We will notify you of any cancellation. Also, because manufacturers continually change product specifications without notice. While we try our best to keep product descriptions up to date, they do not necessarily reflect the latest information available from the manufacturer. We are not responsible for incorrect or outdated product descriptions and/or images. It is your responsibility to know what products are legal or illegal in your country. FDA: These statements have not been evaluated by the Food and Drug Administration. This product is not intended to diagnose, treat, cure, or prevent any disease.