Welcome, United States Customer!
Choose your location and preferred currency for a localized shopping experience.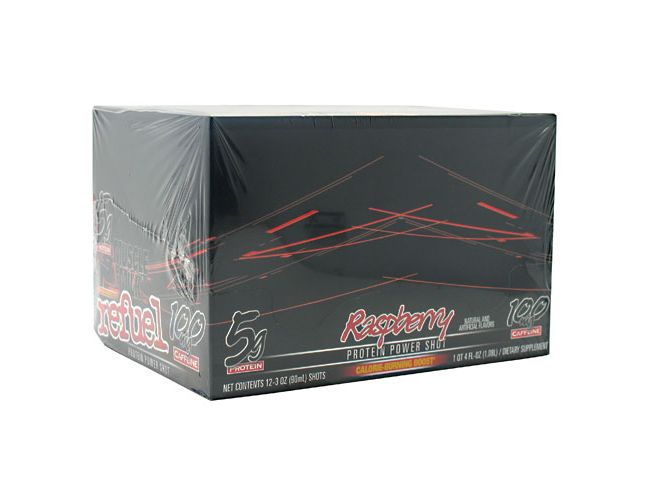 Details
Muscle Milk Refuel Protein Power Shot
CytoSport Muscle Milk Refuel is a protein energy shot. Refuel contains a synergistic blend of whey protein isolate, BCAA's, green tea extract, and Alpha-L-Polylactate. These ingredients increase daily caloric burning, build and maintain lean muscle mass, protect against free radicals, and give you much-needed energy for your workouts or sport of choice.
Refuel is truly a dual-purpose product. Each serving provides high-qaulity, muscle-building whey protein isolate combined with several ingredients that give you sustained energy. Refuel is an outstanding source of b-vitamins, containing 1000% of the daily recommended B6 and B12.
Combine Muscle Milk Refuel with other popular CytoSport products like Muscle Milk, Monster Amino, and Monster Pump NOS for even better results.
Muscle Milk Refuel Benefits
•5 Grams of Whey Protein
•Increases Daily Caloric Burning by 5%
•Sustained Energy
•Alpha-L-Polylactate is 3x Faster and More Efficient Than Glucose
•Buffers Lactic Acid
•Caffeine Equivalent of 1 Cup of Coffee
Muscle Milk Refuel Product Reviews
MSS has a product review tab for each product on the website. Rate and Review Muscle Milk Refuel after your purchase.
Directions
Take CytoSport Muscle Milk Refuel up to 3x daily for maximum muscle building and caloric-burning effects.
Ingredients
Serving Size 3 fl oz
Servings Per Container 1
Amount Per Serving
Serving % DV
Calories 35 -
Sodium 25 mg 1%
Total Carbohydrate 4 g 1%
Sugars 3 g -
Protein 5 g 10%
Niacin 20 mg 100%
Riboflavin 1.7 mg 100%
Vitamin B6 (Pyridoxine Hydrochloride) 20 mg 1000%
Vitamin B12 (as Cyanocobalamin) 60 mcg 1000%
Folate (as Folic Acid) 400 mcg 100%
Refuel Blend 1450 mg -
Questions on
No questions asked yet
Note: Note: In the event of a pricing error or fraud alert, we may refuse or cancel any orders placed for that item in accordance with our Terms & Conditions. We will notify you of any cancellation. Also, because manufacturers continually change product specifications without notice. While we try our best to keep product descriptions up to date, they do not necessarily reflect the latest information available from the manufacturer. We are not responsible for incorrect or outdated product descriptions and/or images. It is your responsibility to know what products are legal or illegal in your country. FDA: These statements have not been evaluated by the Food and Drug Administration. This product is not intended to diagnose, treat, cure, or prevent any disease.