Welcome, United States Customer!
Choose your location and preferred currency for a localized shopping experience.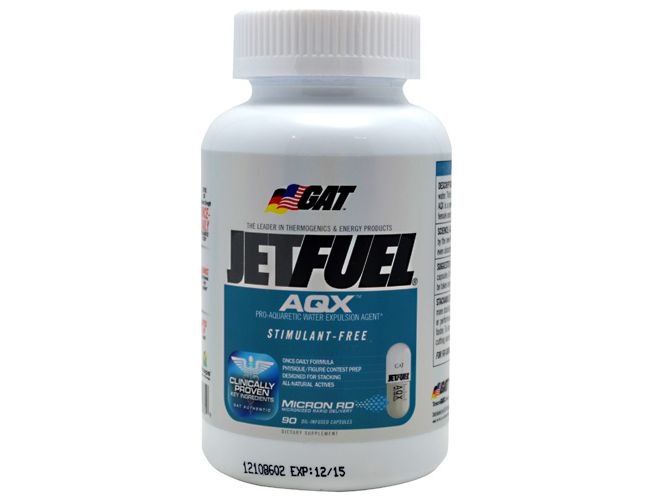 Details
GAT Jetfuel AQX 90 Caps
JetFuel AQX is a powerful drug-free formula that is strong enough to support the advanced male or female user in search of their most cut physique ever. GAT JetFuel AQX comprises a proprietary blend of ten natural botaniceutical actives, all propelled by the new Micron RD micronized rapid delivery system. Micronization supports faster, more even absorption. It also allows each capsule of AQX to hold more actives than ever before. The new Jetfuel series of products has been specifically designed to give you more stacking options than ever before. Whether you want to get maximum "cuts" or enhance lean muscle, there's a Jetfuel stack that can help you achieve it, faster. For advanced stacking & cutting secrets, peel this label when you get home. Stack Accelerator with Jetfuel Superburn or Pyro!
Highlights:
Once-Daily formula.
Physique/figure contest prep.
Designed for stacking.
All-natural actives.
Benefits:
Maximum-strength diuretic targets excess water retention
Reveals Lean Muscular Physique
Directions:
When preparing to achieve peak muscle hardness and definition, take 6 capsules (1 serving) of AQX daily with 8-12 oz of cold water. AQX is a powerful formula and can be taken any time. Do not take more than 1 serving daily, or for more than 7 consecutive days.
Ingredients:
Supplement Facts:

Serving Size: 6 Capsules
Servings Per Container: 15

Amount Per Serving
Potassium (as Potassium Citrate) 90 mg 2%
Calcium (as Calcium Gluconate) 100 mg 10%
Jetfuel All-Natural Multi-Action Pro-Aquaretic Actives 2,300 mg
Uva ursi extract (leaves), taraxacum officinale extract (root), beta vulgaris (beetroot) extract (root), petroselinum sativum extract (leaves), foeniculum vulgare Mill. subsp. vulgare var. dulce extract (seed), solidago virgaurea (stem and leaves), grapefruit 4:1 concnetrate (fruit), lemon extract (fruit), hibiscus sabdariffa extract (seed)
Jetfuel Release & Bioavailability Enhancers 155 mg
Sodium starch glycolate (Explotab, medium-chain tricylglycerols (MCTs) oil (from coconut), black pepper extract (seed)(natural source of piperine alkaloid)

Ingredients: Dicalcium phosphate, microcrystalline cellulose, vegetable stearate, silicon dioxide, titanium dioxide.
Questions on
No questions asked yet
Note: Note: In the event of a pricing error or fraud alert, we may refuse or cancel any orders placed for that item in accordance with our Terms & Conditions. We will notify you of any cancellation. Also, because manufacturers continually change product specifications without notice. While we try our best to keep product descriptions up to date, they do not necessarily reflect the latest information available from the manufacturer. We are not responsible for incorrect or outdated product descriptions and/or images. It is your responsibility to know what products are legal or illegal in your country. FDA: These statements have not been evaluated by the Food and Drug Administration. This product is not intended to diagnose, treat, cure, or prevent any disease.