Welcome, United States Customer!
Choose your location and preferred currency for a localized shopping experience.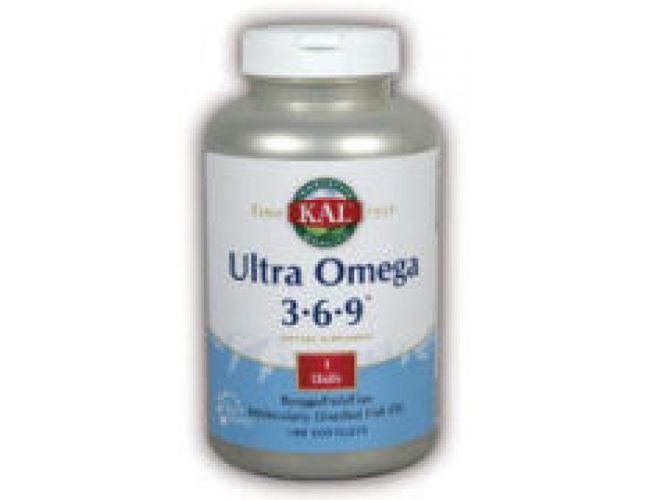 Details
KAL - Ultra Omega 3-6-9 Borage/Fish/Flax
Today's North American diet is typically low in Omega 3. A shortage of Omega 3 in the diet disrupts the balance of Essential Fatty Acids in the body. This formula provides a delicate balance of Omega 3, Omega 6 and Omega 9 with added Vitamin E to help prevent oxidation.
Borage and organic flax seed oils are cold pressed and solvent free. Molecularly Distilled fish oil comes from cold water fish. KAL fish oils go through a purity process, including molecular distillation, to remove heavy metals, PCBs, dioxins, furans and other contaminants to meet superior fish oil standards.
Directions For Ultra Omega 3-6-9:
As a dietary supplement, take one softgel up to four times daily with a meal or a glass of water.
Ingredients:
100 Softgels
Serving Size1Softgel
Servings Per Container100
Amount Per Serving % Daily Value
Calories 15
Calories From Fat 10
Total Fat 1g 2%†
Saturated Fat 0g 0%†
Trans Fat 0g
Cholesterol 5mg 2%
Vitamin E 10IU 33%
Flax Seed 400mg *
(Supplying 212mg Alpha Linolenic Acid [Omega 3], 47mg Linoleic Acid [Omega 6] And 75mg Oleic Acid [Omega 9]).
Fish Oil 400mg *
(Supplying 75mg EPA [Eicosapentaenoic Acid][Omega3] And 48mg DHA [Docosahexaenoic Acid][Omega 3]).
Borage Seed Oil 400mg *
(Supplying 128mg Linoleic Acid [Omega 6], 76mg Gamma Linolenic Acid [Omega 6] And 78mg Oleic Acid [Omega 9]).
† Percent Daily Values are based on a 2,000 calorie diet
* Daily Value not established
Other Ingredients
Gelatin, Glycerin
te and Titanium Dioxide.
Questions on
No questions asked yet
Note: Note: In the event of a pricing error or fraud alert, we may refuse or cancel any orders placed for that item in accordance with our Terms & Conditions. We will notify you of any cancellation. Also, because manufacturers continually change product specifications without notice. While we try our best to keep product descriptions up to date, they do not necessarily reflect the latest information available from the manufacturer. We are not responsible for incorrect or outdated product descriptions and/or images. It is your responsibility to know what products are legal or illegal in your country. FDA: These statements have not been evaluated by the Food and Drug Administration. This product is not intended to diagnose, treat, cure, or prevent any disease.