Welcome, United States Customer!
Choose your location and preferred currency for a localized shopping experience.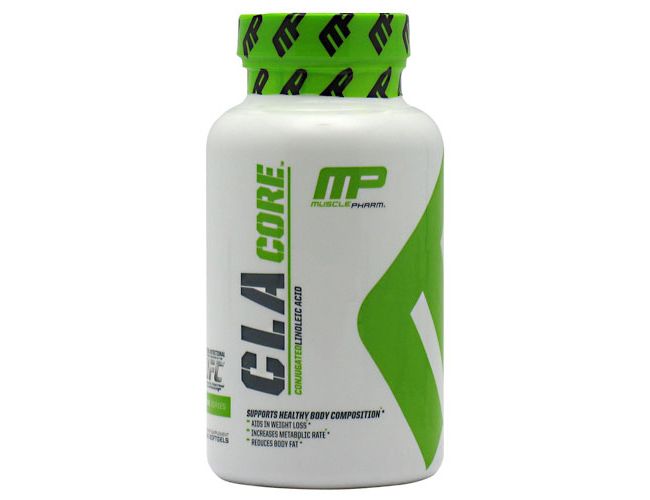 Details
CLA Core | Muscle Pharm | Fat Burner
CLA Core is a Conjugated Linoleic Acid supplement that supports healthy weight management. CLA is found in foods like Lamb, Homogenized Cow's Milk, Butter, Chicken, and Cottage Cheese. More research is needed, but preliminary findings suggest that CLA has wide-ranging health benefits including increasing metabolic rate, improving immune function, lowering insulin resistance, building and retaining lean muscle mass.
Weight Loss supplements are often full of stimulants. CLA Core includes only Conjugated Linoleic Acids, Extra Virgin Olive Oil, Avocado Oil. There are no stimulants of any kind. Many people stack CLA with other weight loss products to maximize their results. Following a healthy diet and exercising regularly in conjunction with weight loss supplements will yield best results.
CLA Core is stimulant-free, so it can be stacked with other popular products like MusclePharm Shred Matrix.
CLA Core Benefits
•Increases Metabolic Rate
•Stimulant-Free
•Supports Increases in Lean Muscle Mass
•Improves Immune Function
•Reduces Food Related Allergic Reactions
•Lowers Cholesterol Levels
CLA Core Product Review
My Supplement Store has a review tab for every product on the website. Add your CLA Core product review after your purchase.
Ingredients
Serving Size 1 Soft Gel
Servings Per Container 90
Amount Per Serving
Serving % DV
Calories 9 -
Total Fat 1 g 2.000%
CLA Core Blend 1000 mg -
*percent Daily Values are based on a 2,000 calorie diet.
Questions on
No questions asked yet
Note: Note: In the event of a pricing error or fraud alert, we may refuse or cancel any orders placed for that item in accordance with our Terms & Conditions. We will notify you of any cancellation. Also, because manufacturers continually change product specifications without notice. While we try our best to keep product descriptions up to date, they do not necessarily reflect the latest information available from the manufacturer. We are not responsible for incorrect or outdated product descriptions and/or images. It is your responsibility to know what products are legal or illegal in your country. FDA: These statements have not been evaluated by the Food and Drug Administration. This product is not intended to diagnose, treat, cure, or prevent any disease.